5 Skincare Tips for a Glowing Complexion
1. Double cleanse for a deeper clean
2. SPF is for life 👏
3. Apply a weekly glow-getting mask
4. Reverse damage with Retinol
5. Invest in quality serum
Top Tip
We highly recommend CosMedix Serum 16 Retinol Complex. It has been clinically shown to visibly reduce the appearance of age spots, lines, and sun damage. And is used by Victoria Beckham and Kim Kardashian!
Why retinol is the key to healthy skin at any age
You were born with healthy skin and it should stay that way no matter your age. However, if you are exfoliating with the expectation it will help restore a healthy glow, stop right now.
In order to be effective, it's essential to add an active ingredient called retinol to your skincare routine. It's the only proven ingredient that targets uneven skin colour from within the deeper layers of your skin. Simply exfoliating only scrubs away the surface cells, resulting in minimal changes. In fact, exfoliating can even make the problem appear worse.
That's why our business is focused on introducing our clients to one key ingredient: retinol, a Vitamin A derivative. CosMedix Serum 16 Retinol Complex is a professional-strength retinoid that is easily tolerated by most skin types. Serum 16 is even safe for sensitised or dry skin that needs a quick pick me up. It can easily replace both your evening moisturiser, serum and eye cream with one product. It's easy to master its application like a pro and achieve all the benefits without any nasty side effects that come from using topical medications.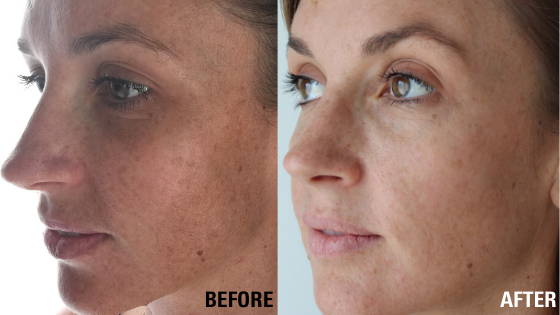 Rebecca grew up in the sunshine and had a year-round tan. However, as she got older, she noticed more pigmentation, sun damage, and premature wrinkles. To heal the damage, she tried many products from a variety of brands. These products only made her skin feel dry and tight, especially after cleansing.
She was about to give up – thinking that she'd have to just live with her skin as it is – when she made an appointment to see Aysha. Aysha overhauled Rebecca's skincare routine and added Serum 16 to it. Rebecca began to use it in the morning and at night and noticed results in less than a week. "My skin wasn't as tight," she says. She also noticed fewer lines on her face and around her eyes, less redness and pigmentation and her pores have shrunk. Her skin glows! She's eager to continue improving it. And, it's all due to Serum 16.
Victoria Beckham starts her day with CosMedix!
To keep her skin glowing, Victoria Beckham includes CosMedix products in her morning and evening skincare routines.
In the morning, she cleans and purifies her skin with Purity Solution Deep Cleansing Oil. Purity Solution removes excess dirt, oil, makeup, sunscreen, and impurities from the deep cellular layers of the skin while providing healing antioxidant support. She also uses CosMedix Purity Clean Exfoliating Cleanser, calling it "nice and foamy and is minty, which feels really nice on the skin as a final cleanse." Victoria follows it up with ELITEEye Doctor serum to nurture and protect the delicate under-eye area.
In the evening, she cleanses with Purity Solution Deep Cleansing Oil and follows it with Eye Genius and CosMedix Serum 16. Serum 16 stimulates the production of collagen and elastin to improve the skin's texture, tone, and brightness.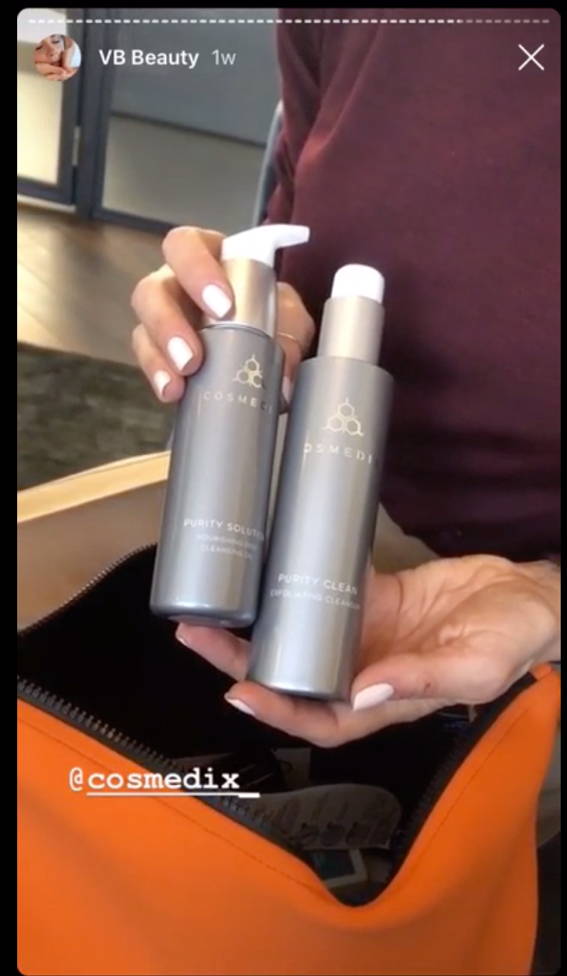 Serum 16 - Perfect For You
Serum 16 Retinol Complex is a professional-strength breakthrough serum clinically shown to visibly reduce the appearance of age spots, lines, and sun damage. It contains 16% LG-Retinex, a proprietary blend of retinol, retinaldehyde, and glycosaminoglycans to stimulate the production of collagen and elastin, brighten the skin and improve skin's overall texture and tone. Skin appears brighter, smoother, and more even.
---