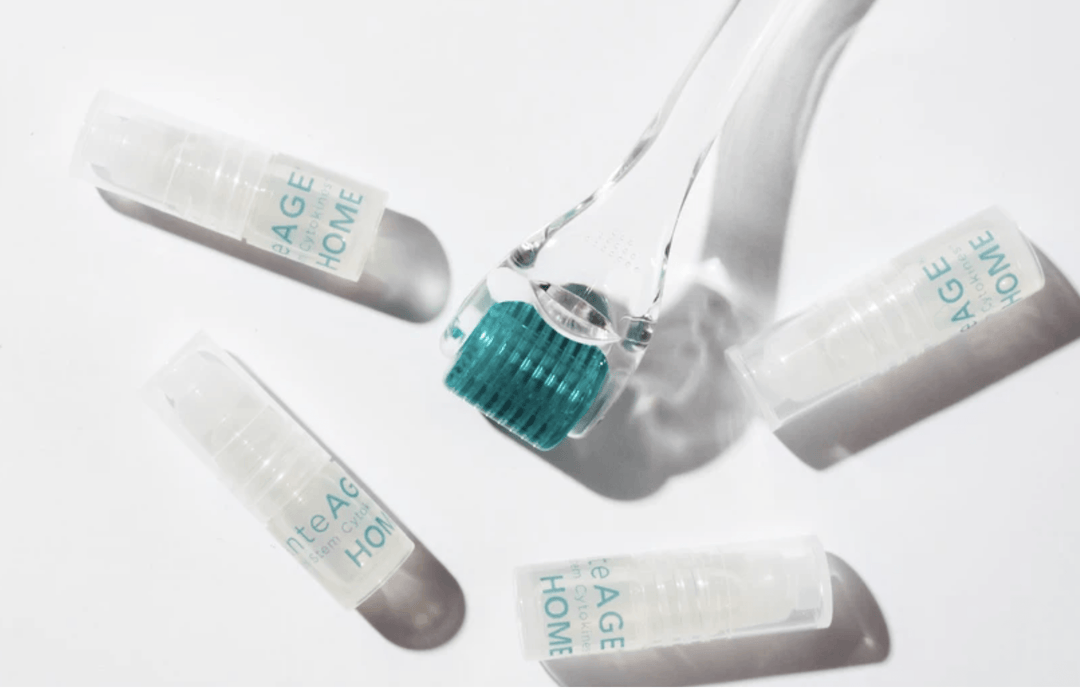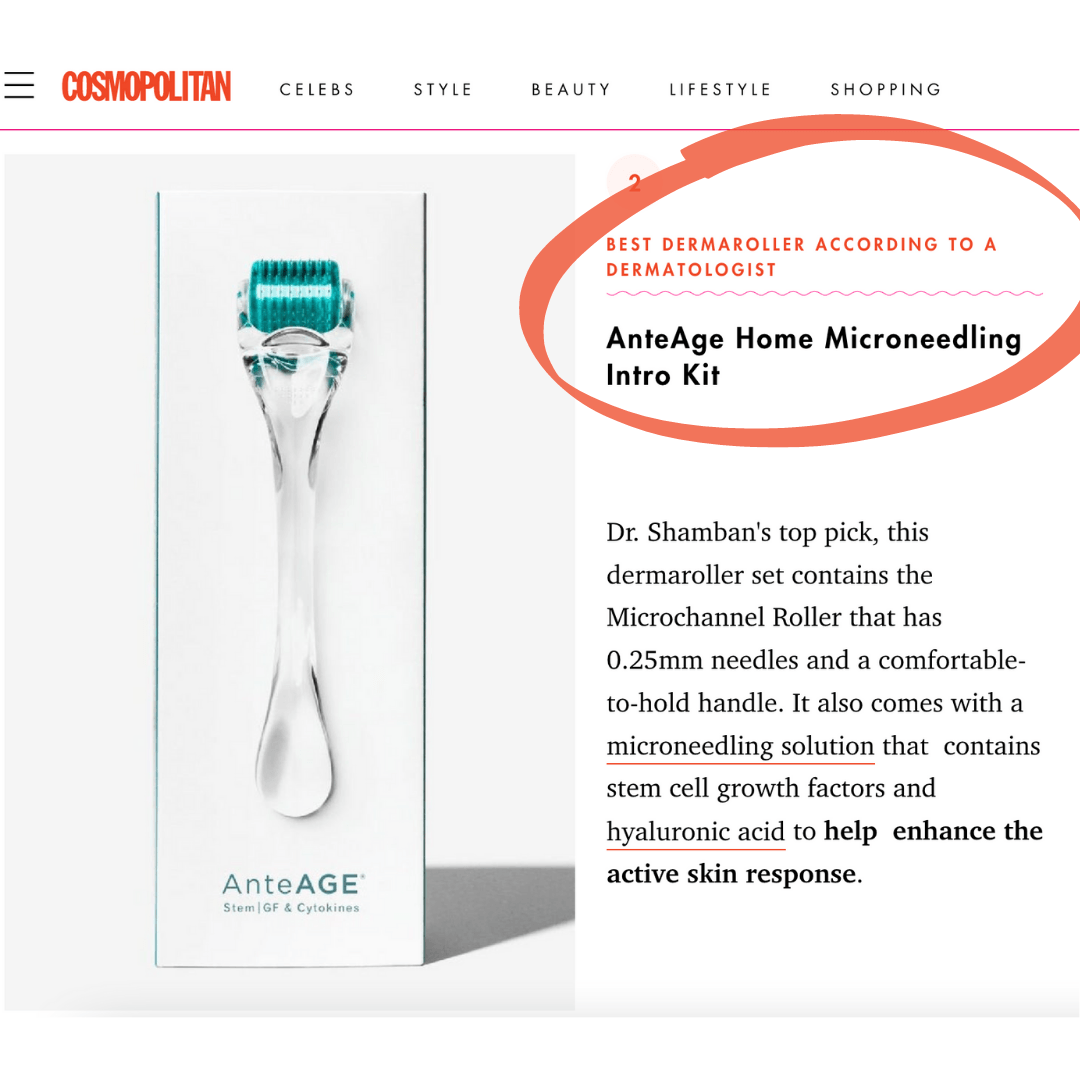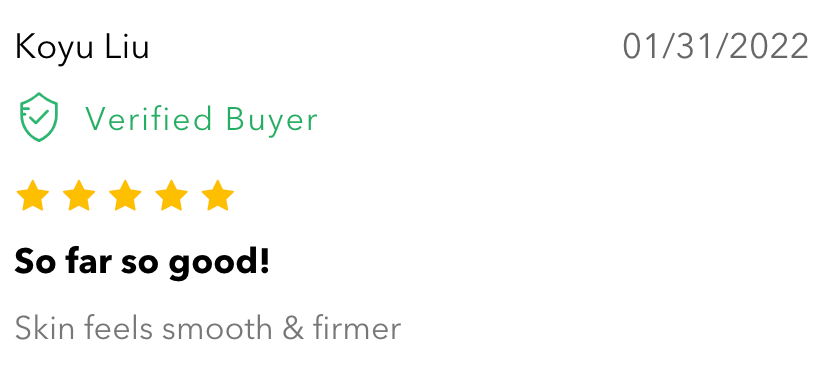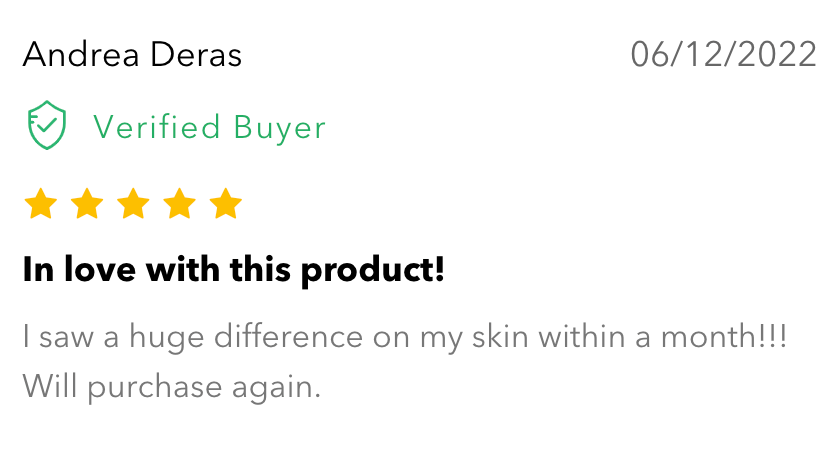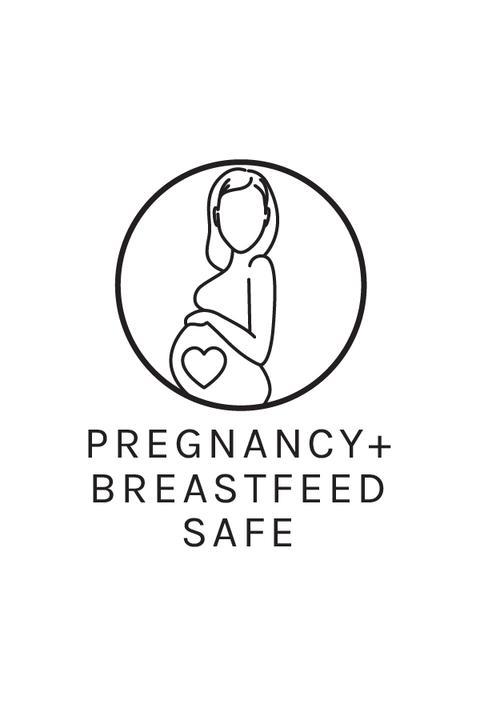 Home Micro-needling System (x5 vials & .25 mm micro-needling roller) - AnteAGE®
---
Free UK Shipping (on orders £45+)
Get it tomorrow if ordered before 2.30pm Mon-Thurs (UK mainland only)
30 Day Money Back Guarantee
In stock, ready to ship

Inventory on the way
Become approved to purchase, click here
---
Description

The Science 

Origins 

Instructions

Ingredients

FAQ

Delivery
 The AnteAGE® Home Microneedling System is a safe and natural rejuvenation treatment that you can do at home to reveal healthy, more youthful-looking skin.

Commonly known as Collagen Induction Therapy (CIT), micro-needling is an advanced skin technique that uses shallow needles to stimulate the top layers of the skin. The treatment creates a release of natural growth factors (your skin's native regenerative proteins), naturally encouraging rebuilding your own collagen and elastin.
The system contains two products: AnteAGE® Microneedling Solution and a Microchannel Roller (.25mm). These products work together to reactivate the skin's natural regenerative properties.
AnteAGE® Home Microneedling Solution maximizes the regenerative power of micro-needling. Stem cell growth factors and hyaluronic acid in the solution enhance your skin's healing response, restoring a natural, youthful glow.
Regular Home Microneedling has been shown to improve:
Fine Lines & wrinkles
Sagging Skin
Texture & Tone
Pore Size & Discoloration
AnteAGE® Skincare is clinically proven to reverse ageing and restore healthy skin. The unique technology harnesses the healing bio-signals that are omitted naturally on a cellular level. These Growth Factors and Cytokines form part of the complex language, that responds to healing from injury and are shown to rejuvenate damaged skin. 
The at-home facial kit addresses several different skin problems (Pigmentation and LInes) and is safe to use if you have either Hypersensitive Skin or Rosacea.  Products containing conditioned media from bone marrow stem cell cultures. These have demonstrated a far more potent and consistent anti-inflammatory effect.
Crucially the combination treatment increases the production of firming collagen and elastin.  The microchannel stamp improves penetration by four times more. 
All the serums quickly absorb into your skin with a high concentration of physiologically balanced Stem Cytokines™ (derived from human bone marrow stem cells) fortified with two recombinant Growth Factors, TGF-β3 and IGF-1. A nanoliposomes delivery system ensures proper penetration. 
Each kit has been designed for five complete treatments. Apply to the face and neck.
Repeat the treatment every seven to fourteen days. 
*Click on the instructions tab. 

Download instructions of how to do the Medico Beauty Method of Micro Needling here  
Ensure the best results by achieving the maximum number of channels and avoid overcomplicating the process by combining micro needling with all the products in your skincare regimen and any other facial treatments that you may be currently undergoing. 
With daily use, the AnteAGE® Skincare improves the health and appearance of skin at any age.
Before and After following a 5-week clinical study using The AnteAGE® Skincare System
How do I order this?
AnteAGE® MD is given on a named basis, under the supervision of a certified professional. It's only available to purchase in a clinic or by mail order. To get started, click on the link above to BECOME APPROVED TO PURCHASE  
The AnteAGE® Skincare System was in development for 3+ years and launched in 2012 by The Cellese Corporation, the research laboratory and manufacturing is done in California, USA. 

The key difference between growth factors (GF's) made by other brands is that the growth factors are harvested from bone marrow-derived mesenchymal stem cells (MSC's) a cytokine, "powerhouses" and not fibroblasts (fetal foreskin derived) or fat cells (adipocytes) extracted through liposuction. 
MSC stem cells produce fifty times the concentration of key GF's compared to fibroblasts. 
Within the body, MSCs deplete as you get older.  In fact, at age fifteen, one out of every 10,000 of the cells in your bone marrow are MSCs.  At age fifty, only 2.5% of these cells remain.
Extracted from an article written by founder Dr. George Taylor; 
"This makes sense when you realise the different roles these cell types play in wound healing and regeneration. Fibroblasts are really the corporals in that war, taking orders from the generals – the stem cells.  Stem cells bark the orders, fibroblasts listen and do the grunt work.
"MSC's are grown in "farms" of millions of MSC's under strict sterile conditions in a university laboratory.  Their environment is highly controlled.  We mimic the niche they live in with the body. We "talk" to them.  They produce abundant cytokines in regenerative patterns.  We isolate them, leaving all that cell stuff behind.  Cytokines are further processed to package them for delivery through the skin (nanoliposomes)." www.barefacedtruth.com 
"The human stem cell-derived growth factors are completely natural to humans. Organic if you will, in that they are a perfect molecular match to the same growth factors our own bodies make.  That means that allergic reactions to these molecules are pretty much nonexistent." Extracted from blog article www.barefacedtruth.com 
Definition of terms:
1. Bio-signals refers to cytokines & growth factors produced through laboratory culture of human cells.
2. Conditioned media is the name given to the nutrient culture broth after all cells have been filtered out and discarded. It contains the biosignals produced by the cells during culture.
3. Lysed cells are cells that have been ruptured or burst using repeated freeze-thaw cycles.
4. Exosomes are a type of extracellular vesicle that contain constituents (protein, DNA, and RNA) of the cells that secrete them. They are taken up by distant cells, where they can affect cell function and behaviour. 
The research was conducted
 by Scientific Founders, Dr. John Sanderson and Dr. George Taylor. They are also the authors of an educational website called 
barefacedtruth.com
 that gives a very detailed explanation of the scientific discover around GF and is also a platform for debating their use in skincare.   
AnteAGE® by Cellese Recent research revealed the important role bone marrow stem cells play in tissue repair and healing throughout the body, particularly in the skin.
The founders choose to employ not fibroblasts, but stem cells, and indeed a particular class of stem cell that is the subject of intensive work in many other stem cell laboratories around the world. 
Like red cells, white cells, and platelets, which also originate in the bone marrow, these stem cells enter the bloodstream where they are carried to all tissues. Upon arrival at injuries, some may differentiate into cell types needed for repair (e.g. muscle, cartilage, nerve, etc.). Their major role, however, is to act as command and control of other nearby cells involved in healing. The pattern of bio-signals in conditioned media derived from the culture of bone marrow stem cells is strongly anti-inflammatory. On the basis of healing physiology, and the known deleterious effects of inflammation on the skin, bone marrow-derived mesenchymal stem cells appear to be the preferred cell to culture to obtain bio-signals for use in products to be applied to the skin. Clinical evidence supports this conclusion. Bone marrow stem cells are typically obtained from young adults in their early 20's.
Claims: AnteAGE was effective in improving twelve parameters of skin health and appearance in 45 women and 4 men aged 30 to 75.  These twelve parameters were: Tone, Dryness, Brightness, Softeners, Pore Size, Blotchiness, Redness, Age Spots, Fine Lines, Texture, Colour Blend, Deep Lines.
Clinical Results: 85% saw improvement in 6 or more criteria; 61% saw improvement in 9 or more criteria; 32% saw improvement in all 12 criteria. There were forty-eight participants and the study lasted five-weeks. 
Download instructions of how to do the Medico Beauty Method of Micro Needling here  
Ensure the best results by achieving the maximum number of channels and avoid overcomplicating the process by combining micro needling with all the products in your skincare regimen and any other facial treatments that you may be currently undergoing. 
Step One:  Do a double-cleanse using a gentle cleanser such as CosMedix Benefit Clean or Purity Solution oil cleanser. If you are already wearing make-up or sunscreen it's worthwhile doing a double cleanse with the gentle cleanser before using the exfoliating cleanser. 
If your skin is already tolerant of active ingredients, for the second cleanse use a higher strength cleanser made with l-lactic acid. Mix one pump of CosMedix Purity Clean with water, massaged onto the skin for a few seconds, then remove with water.
Clarify Foaming cleanser is more suitable than Purity Clean to use for Rosacea or Hypersensitive Skin. 
Step Two:  Exfoliation 
Ideally use an enzyme (gel) mask made with l-lactic. This will refresh the skin's surface and allow for penetration of the serums.  
Pure Enzymes is made with enzymes and L-lactic. It's suitable for a normal skin type that isn't prone to flushing.
Start the application on the forehead using your fingertips. Apply a thin layer down the face and neck. The mask is very concentrated. It can be massaged into the skin until there is no more slip. 
It's normal for the skin to tingle for the first three minutes. Fan the mask to dry for one minute. If you wish to activate the enzyme in the mask, use steam.  
Leave to dry for ten minutes.  Remove the mask with the towel. Put some cool water onto the skin and use a damp cotton pad to remove any mask residue.
Regenzyme Mask is made only with fermented enzymes. It has a thicker consistency to Pure Enzymes and doesn't dry on the face. The mask will feel tingly on application. Leave on the skin for 3 minutes.  It can be left on for up to 15 minutes. 
Step Three:  Home Growth Factor Solution (5 ml vial) - apply the solution with the rollerball all over the face and neck. Start the application on the forehead and work down. The solution is safe to use on the eyelids and lips. If you find that not much serum is being dispensed, open the vial and use 1/4 of the serum. Apply with your fingertips. Fan to dry the face. 
Step Four:  Micro-channel roller .25 ml 
Watch this video demonstration of how to use the facial roller 0.25 mm using the feathering technique (click on the blue link). This creates the greatest number of channels. 
Divide the face into four sections.  Leave the neck to last. Start on the forehead in the middle of the face. Roll the stamp against the skin and work down the face in one line, moving from the centre, outward to the hairline. Do the right side of the forehead, then left side. 

After finishing the forehead, move into the lower part of the face, roll the right, then left cheeks. It's safe to use the stamp around the eye bone (lower) and also an upper lid, just under the eyebrows. Don't forget to also stamp the lips then nose. Finally, stamp the neck. 

After rollering the face and neck vertically, switch and repeat the same steps but roller horizontally, working from the centre of the face outward. 
This technique ensures the highest number of channels is created. The active ingredients are absorbed into the skin through the channels. 
Step Five:  Repeat the application of the Solution to the face and neck.  Fan to dry for a few seconds. 
Instructions - Post Treatment 
If going outdoors, wait twenty minutes before applying a mineral sunscreen (SPF) or make-up twenty minutes after the treatment. This gives enough time for the small channels to close and no longer absorb any ingredients. 
Avoid sauna and heat (exercise) for a minimum of two days. You may find the face is sore to touch and flushes more easily. Do not go into direct sunlight. Always wear a mineral sunscreen (made with Titanium or Zinc Oxide) and make-up.
Use CoMedix Protect SPF30 (spray mineral sunscreen) and a mineral makeup with SPF. Pür 4-1 mineral makeup with SPF15 is available to buy online  
It's safe to wear mineral makeup immediately after the treatment. Liquid foundations can interfere with the active ingredients in the treatment and should be avoided. 
Instructions for re-introducing active ingredients post micro needling. 
Tretinoin: four days post treatment
AHA's:  four days post treatment 
Retinol:  two days post treatment 
Retinal:  one day post treatment 
Scrubs, toners and exfoliating masks:  four days post treatments 
POST TREATMENT 
Immediately after and for the next two days it's normal to see flushed skin. The skin may also go red following cleansing.  
It's also normal for the skin to appear dull and even for lines to look more severe 48 hours post treatment. This is because of water evaporation. After 72 hours the skin hydration levels return to normal and the rejuvenating benefits are more noticeable.
Post treatment you may also feel sensitive to touch.
The skin can flush and look red up to 48 hours post treatment.
If you regularly apply Tretinoin, Hydroquinone, Retinal, Retinol or a use any acids, such as AHA's (Glycolic or L-lactic Acid) or Salicylic Acid, it's normal for the skin to become dry and even flaky 48 hours post treatment. Micro needling increases the rate of skin cell renewal and combined with Tretinoin, Retinol / Retinal it will enhances the level of stimulation and repair.  This can also occur when the kit and any retinoid derivative is combined with other facial treatments such as LED Light Therapy. 
HOMECARE ROUTINE 
For the next seven days, after cleansing use the AnteAGE® System Serum (No. 1) and Accelerator (No. 2) 30ml in the evening. This is also available in a travel size kit (5ml) The products can be used morning and evening but are likely to run out very quickly. The kit lasts approximately ten days. 
Use a gentle cleanser in the morning and evening.

For the next seven days, avoid using any Toners, exfoliating scrubs and masks. 

You can return to using Antioxidant serums (products made with Vitamin C) in the following morning. 

In the evening if using the AnteAGE® Serum No. 1 & 2, don't use a Retinol product. It's not necessary and helpful to give the skin a break for seven days. After seven days you can return to using. are Retiol product on alternative nights with AnteAge system. 
An alternative recovery kit to use is CosMedix Sensitive Skin Kit RRP £68.96 
Repeat the treatment every seven days.
CLEAN ROLLER - after using put roller into an alcohol solution for a few seconds, dry and reseal with the lid. 
What's Included:
5 vial of x 2ml Microneedling Solution
.25mm Microchannel Roller
Ingredients:
Water (Aqua), Human Bone Marrow Stem Cell Conditioned Media, Hyaluronic Acid, Benzyl Alcohol, Dehydroacetic Acid
The stem cells are sourced only from the bone marrow of young, healthy, pre-screened adult donors. Stem cell cytokines also contain none of the original cell parts themselves, only the beneficial growth factors they produce.
The healing chemical signals produced by the mesenchymal stem cells (growth factors and cytokines) are harvested. The products are 100% free of inflammatory cells, cell fragments, RNA, or DNA.
The Serum contains only the harvested growth factors and cytokines. 
The formulation is very stable and does not require refrigeration 
The point after opening is recommended at twelve months 
The expiration is two years 
UK - England, Wales and Scotland (excluding Scottish Highlands and Isle of Man)
FREE next day DPD Courier delivery within the UK for orders of £45.00 and over.
For orders under £45.00, the cost of next day DPD Courier is charged at £6.00 (tracked, signed for and guaranteed)
Scottish Highlands - Royal Mail Tracked48 three day service
Northern Ireland
FREE Royal Mail Tracked48 (two day service) for orders of £45.0O or over.
For orders under £45.00 the cost of Royal Mail Tracked48 £7.00
Europe & Worldwide - shipped by DHL Express courier. All sale prices include taxes, duties and handling fee charged by DHL. There are no extra fees to be paid by the receiver. Orders of £124.99 or less are dispatched by IOSS (Import One Stop Shop) and for £125.00 by Delivery and Duties Paid (DDP). Final taxes and duties calculated at checkout.
Include your mobile - Mandatory
Always include a mobile number to get SMS and email notifications from the delivery courier and select a convenient time to receive your package, leave in a safe place or at your nearest collection point (DPD courier only). A signature is required for all deliveries.
Guarantee 
30-Day Satisfaction Guarantee - return any item for a full refund. 
For more information please visit Delivery & Returns